Apeloa Pharmaceutical and MPP Signed an Agreement for the Production of Pfizer's Oral Drug for COVID-19 Treatment
Source: Media Development Center
On March 19, Apeloa Pharmaceutical Co., Ltd. issued an announcement that the company signed a Licensing Agreement with MPP (Medicines Patent Pool). MPP granted the company a non-exclusive, non-transferable, non-sublicensable and royalty-free license to use relevant patents and know-how for the manufacturing, commercializing and relevant rights of nirmatrelvir active pharmaceutical ingredient (API) and nirmatrelvir/ritonavir patented formulation (the API and formulation are hereinafter collectively referred to as "cooperative products") in the regions (95 low- and middle-income countries/regions such as India, Pakistan and Vietnam).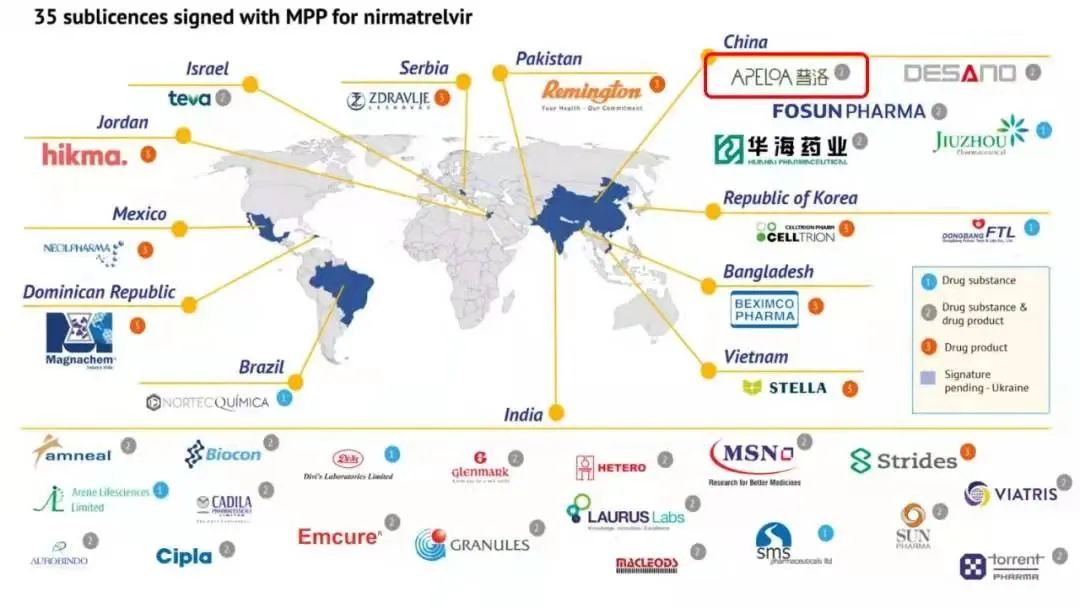 Based on the Licensing Agreement, Apeloa Pharmaceutical will manufacture the cooperative products at the production facilities approved by the SRA (Stringent Regulatory Authority) or pre-approved by the WHO (World Health Organization). The cooperative products manufactured by the company may be supplied to Pfizer and other MPP licensees upon request, or may be purchased from other MPP licensees.
Pfizer's Paxlovid is reported to be an oral small molecule novel drug for COVID-19 treatment, a combination therapy of two nirmatrelvir tablets and one ritonavir tablet for the treatment of adult patients with mild-to-moderate COVID-19 with high-risk factors for progression to severe cases. Paxlovid reduced the risk of hospitalization and death in high-risk COVID-19 patients by 89%, according to an interim analysis published by Pfizer in 2021. Paxlovid has been granted emergency use authorization or temporary authorization in several countries and regions around the world. On February 11, 2022, the said drug was also approved for conditional marketing by the National Medical Products Administration (NMPA) of China.
Obtaining the MPP authorization from Pfizer is a monumental recognition of the high-efficiency technological R&D capabilities, high-standard compliance capabilities and good cost control capabilities of Apeloa Pharmaceutical, and also sets up a good platform for the company to continue promoting its internationalization strategies. In recent years, the company has established the corporate mission of "Technology for health", and established the development concept of "Pursue state-of-the-art R&D, Assure high compliance, Strive low-cost manufacturing", and strives to continuously increase investment in research and development to continuously strengthen quality and EHS system, accelerate the construction of new production capacity projects and other initiatives to become a leading enterprise in China's technology-based pharmaceutical manufacturing, and make unremitting efforts to protect human health.